Linda (Russian: Линда) is a stage name for Svetlana Lvovna Geiman (Russian: Светлана Львовна Гейман; born 29 April 1977, Kentau, Kazakh SSR, USSR), a Russian singer. Her style incorporates trip hop, electronic and ethnic music. Since January 2012, she has been married to Greek composer Stefanos Korkolis.
The album by Linda, Sкор-Пионы (Skor-Piony) or Scor-Pions was released in 2008.
In 1993 she appeared on television for the finale of the song contest Поколение (Pokoleniye) or Generation. As a result, she was able to record her first album Песни тибетских лам (Pesni Tibetskich lamb) or Songs from the Tibetan Lama's in 1994. A series of albums followed, of which were sold more than 3 million copies. Her biggest hit was undoubtedly the number Ворона (Vorona) or The Crow. She was also one of the first Russian artists to penetrate with Russian songs to the U.S. charts ofBillboard Magazine and MTV.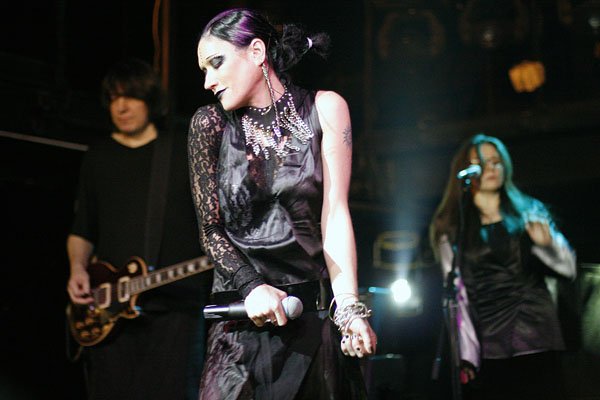 In 2010, Linda announced that she and the Greek composer and pianist Stefanos Korkolis would form a new band, which would be called Bloody Faeries. Though sometimes she uses the name of Bloody Cherries as well. Korkolis and Linda would be working together on a new project which they would present in 2011. Although it has not happened yet, some songs of it are wholly or partially leaked on the Internet. They all have one thing in common: they seem to have been inspired by famous literary works such as The Sleeping Beauty, The Little Prince, Les Miserables andThe Master and Margarita.
Although most of the leaked tracks can be found in a full version, only a fragment of 46 seconds is revealed of Мастер и Маргарита (Master i Margarita) .