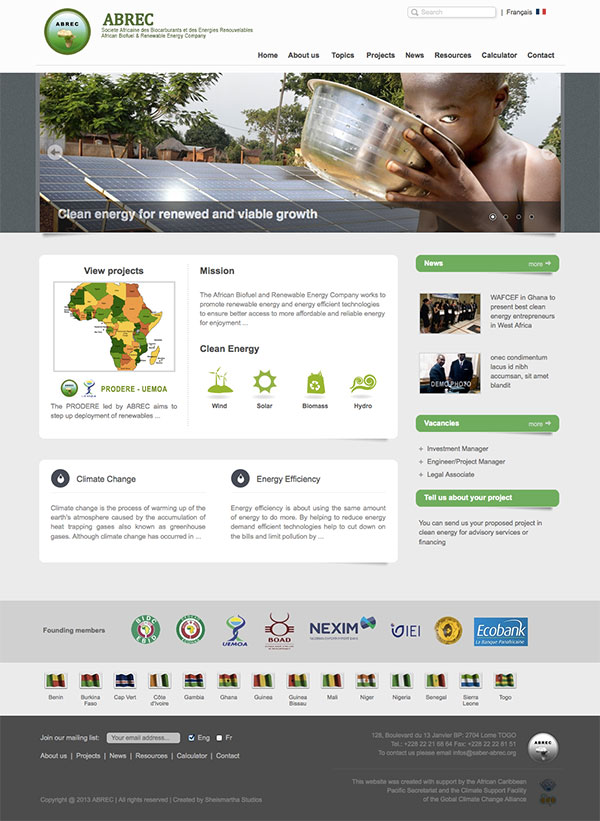 The African Biofuel and Renewable Energy Company ABREC works to promote renewable energy and energy efficient technologies in Africa. Although Africa has rich resources of clean energy in the form of solar, wind, biomass and hydro power turning this technical potential into a practical capacity requires a number of conditions. Among others it depends on bringing together human skills, expertise, financial resources as well as helping to bring about change in the institutional and policy setting levels to enable change and transformation towards a clean energy system. The African Biofuel and Renewable Energy Company works to drive uptake of clean energy and energy efficient technologies to improve the livelihoods of African people, to help mitigate climate change and help ensure energy security in Africa.
Transitioning from fossil fuel based systems to clean energy is essential if efforts to slow down global warming are to succeed. The adaptation of energy systems in time to avoid temperature rise above two degrees, the minimum increase to avert the worst impacts of climate change presents a formidable challenge. Transitioning to clean energy is all the more demanding because energy needs are foreseen to expand considerably in Africa over the coming decades with new investment of about two thirds of existing capacity needed to keep pace with Africa's growth.  Yet there are ample opportunities for international funding for climate friendly energy systems more so today than ever in the past.
ABREC has been promoting the development of clean energy in Africa since 2009. Its role has been to facilitate entry of the financial actors that bring new climate-mitigation investments. This experience places ABREC in an excellent position to help African countries to manage the challenging transition to a low-carbon energy economy.
Site // Coming Soon: www.saber-abrec.org
Year: 2014
By Sheismartha Studios