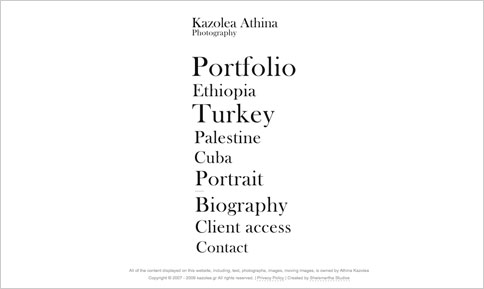 Athina Kazolea was born in Athens, Greece.
Many of the projects that she worked on have taken her to a vast number of destinations, including Ethiopia, Palestine, Turkey, Tibet, Cuba, Yemen, Israel, Morocco and India. In 2000, she joined Doctors Without Borders as a photojournalist in missions in Palestine and Tibet. She has also worked with the Greek organizational branch of UNHCR, photographing Iraqi refugees in Damascus, Syria.
During 2005-2006 she worked as a photo editor for Passport magazine, included as a special travel publication of Greek newspaper Kathimerini.
Since 1990, a large number of her work has gotten published in some of the most noteworthy and popular Greek newspapers and magazines (Passport, Kathimerini's "K", Marie Claire, Cinema, Difono, Metro, Ena, Ta Nea, Tahidromos etc).
She has collaborated with major music publishers Minos EMI, Universal, Lyra  and worked as a movie set photographer for films and television shows.
Also she has participated in a great number of group exhibitions.
Her works belong to private collections and some are also part of the collection of the Museum of Photography, Thessaloniki.
Site: www.kazolea.gr
Year: 2007
By Sheismartha Studios